The Grand Mesa Nordic Council (GMNC) Nordic ski areas are located on Colorado Highway 65 (Scenic Byway), 45 miles from Grand Junction via I-70/CO Highway 65, and 35 miles from Delta via Highways 92 and 65 through Cedaredge. GMNC grooms ski trails at three locations on Grand Mesa: Skyway, County Line and Ward.
Google Maps and Directions
Skyway and County Line Cross Country Ski Trails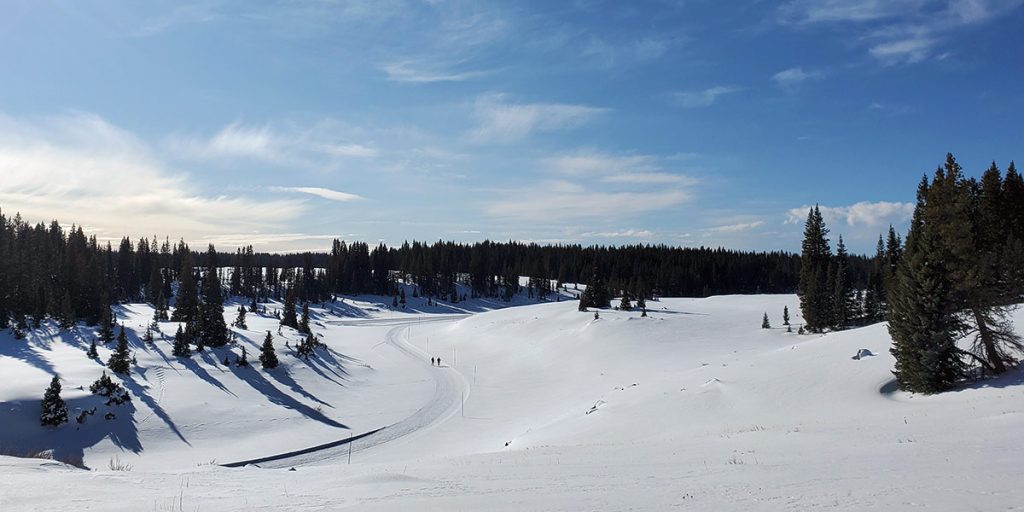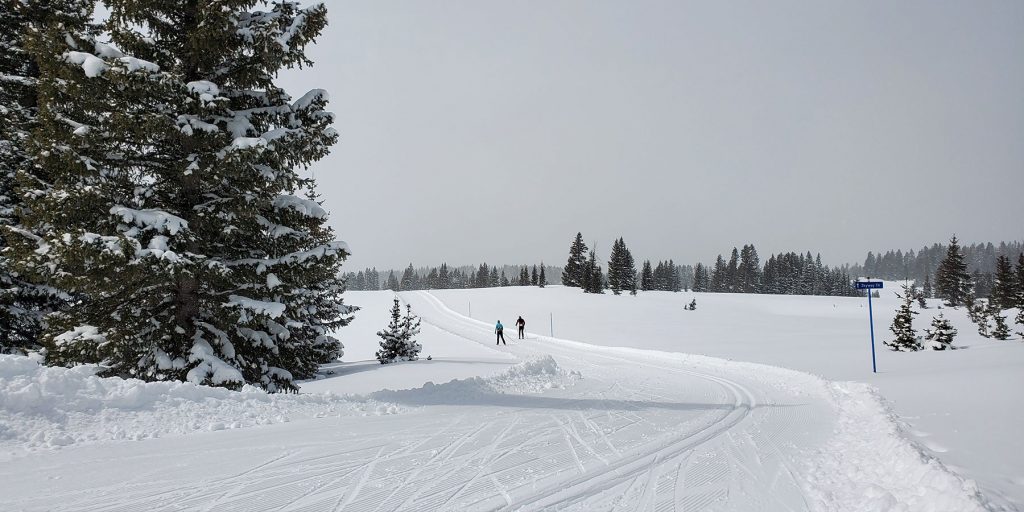 The GMNC Skyway and County Line Nordic area has two trailheads about 2 miles apart on highway 65. There are a total of 30 kilometers (19 miles) of trails groomed for skate and classic styles of cross country skiing. Skiers can complete a 21-kilometer loop starting from either trailhead. In early season, trails are snowmobile-groomed until there is sufficient snow depth to groom with the heavy groomer, the PistenBully 400, usually by mid-December.
All trails are easy to moderate with a few short climbs with a maximum elevation change of 50 feet. In general, the easiest skiing (because it is flatter) are the trails on the County Line side. The steeper descents are marked on the map with caution symbols and chevrons pointing in the direction of descent, mainly to alert skiers to blind corners and runouts across intersecting trails.
The trails pass through high timber, frozen lakes and some open areas. Two overlooks offer skiers spectacular 100-mile views of the West Elk and San Juan Mountains to the south, and Battlements to the north.
Ward Cross Country Ski Trails
The GMNC Ward Nordic area has 6.7 kilometers of snowmobile-groomed trails and 12 km of ungroomed ski touring trails, for a total of 18.7 kilometer (11 miles) of marked and signed trails.
The Ward Trail is groomed from Ward trailhead on highway 65 to Baron Lake Drive near the visitor center, and provides easy access to the touring trails and to backcountry skiing terrain. There is a 500-foot elevation gain from the Ward trailhead to Baron Lake Drive.
The trails pass through aspen and spruce forests, frozen lakes and some open areas. An overlook offer skiers spectacular 100-mile views of the San Juan Mountains to the south. The parking lot at Ward Creek Reservoir is the designated trail head for Ward ski trails.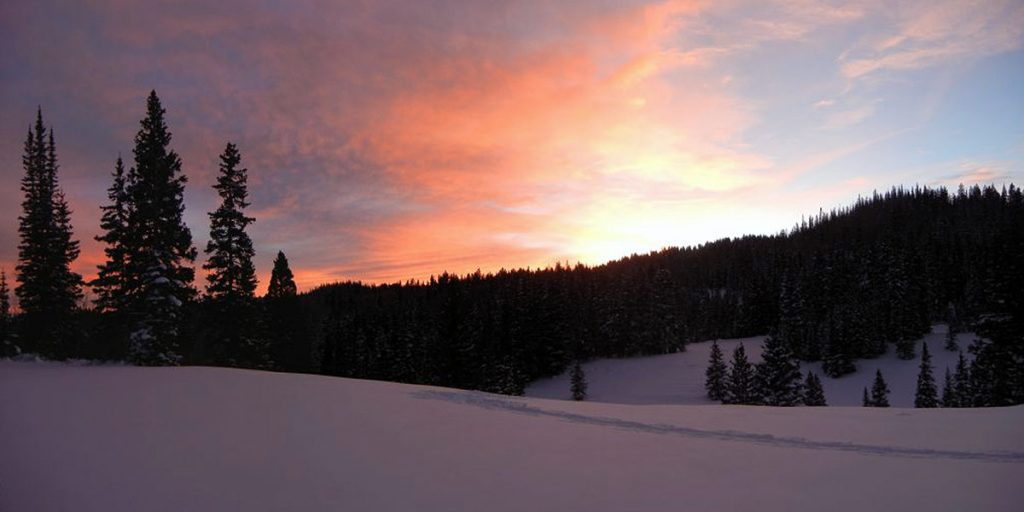 Geo-Referenced Maps and Navigation
Navigation in winter on the top of Grand Mesa can be challenging during cloudy and occasional whiteout conditions. Trail signs and maps have been designed to help skiers return safely to the correct trailhead in any conditions. There are two navigation methods:
All Trail Intersections Are Numbered

All trail intersections are numbered on the trail maps and on south-facing trail signs at intersections. When facing any intersection sign with the trail map in hand (north arrow pointing up) the map will be correctly oriented. Directional signs and trail name signs will help verify your route.

Geo-Referenced Topographic Trail Maps

GMNC also provides geo-referenced topographic trail maps. These maps can be downloaded into the free Avenza app on a GPS-enabled mobile device. The Avenza app will display your location when you are within the map area with only GPS service. Cell service is not necessary.