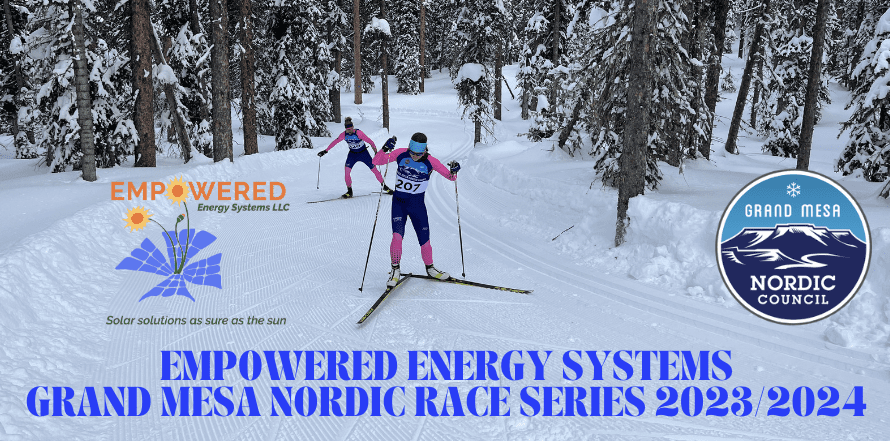 The GMNC Race Series Presented by Empowered Energy Systems
The 2023-2024 Empowered Energy Systems Race Series consists of five races and one noncompetitive event over the course of the season.
Your best four of the five scored races will count toward the standings. To be eligible for overall series and age group prizes, you must complete four of the events below.
Saturday December 2 Winterstart 5km Ski Race 5km classic and 5km skate (NOTE: only the classic race counts for series points)
Saturday December 30 Skyway Skuffle 10 km skate race
Sunday January 28 Sunday Grand Mesa Classic 10km classic race
Saturday February 17 Friluftsliv Challenge (NOTE: counts as participation in the series, but not scored for series points. Details on this fun event coming soon…)
Sunday February 25 The Feb 15K Race 
Sunday March 17 Mesa Meltdown 20km and 5km freestyle (NOTE: only the 20km counts for series points)
Prizes:
-Overall series winners (female and male) get a new ski jacket from Loki.
-Female and Male overall winners of each individual race scored for the series win $50 cash.
-Prizes awarded to age group winners for the overall series.
-All registered racers are entered into a raffle (at each race) for a variety of cool prizes from local business sponsors.
Rules and Scoring:
Points are awarded for overall and age group (10 year brackets: 10-19, 20-29, 30-39, etc.) according to the following system:
1st place: 20 points
2nd: 19
3rd: 18
4th: 17
5th: 16
6th: 15
7th: 14
8th: 13
9th: 12
10th: 11
11th: 10
12th: 9
13th: 8
14th: 7
15th: 6
16th: 5
17th: 4
18th: 3
19th: 2
20th: 1
To win overall or age group series awards, you must participate in a minimum of four events. Your best four of the five scored races will count toward the standings.
In the event of a tie, the order of finish in the Mesa Meltdown 20km is the tie-breaker.
Thanks to our sponsors:
Empowered Energy Systems
Loki Outdoor Clothing
Ela Family Farms
Peach Street Distillers
LLMA Designs — Art by Lori List Mae Anderson
for more info email info @gmnc.org