Ella DeWolf and Benjamin Noren duke it out on the Summit hills!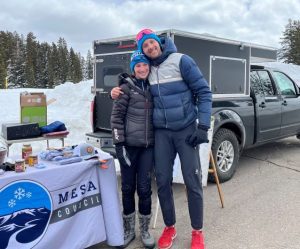 Ella and Benjamin after the race sporting their new GMNC hats.
The Empowered Energy Systems 2022-2023 Race Series wrapped up at the Mesa Meltdown with women dominating in both the 20K and 5K distances. Ella DeWolf cruised to the 20K win. She was leading at the 10K mark and continued to maintain a gap on 2nd place Benjamin Noren on a tough course. There wasn't much melting at this year's Meltdown but race conditions were excellent. We pulled some strings to arrange for a tailwind up Vista Valley on the second loop trading for a chilling headwind on the final k to the finish. There was plenty of hot soup waiting at the finish to take that edge off.
In the 5K, Eva Smith had an easy win over Jim Dresser in second. Actually, nothing is easy skiing at 10,600 ft but Eva looked strong coming in with a comfortable lead. Big great effort kudos go to 7-year old Catherine Clubb who attacked the 5K in a great leprechaun hat but took a wrong turn and finished on her own short course. The other unfortunate mishap was Lori Stone who pulled a rib out of place warming up for the 20K and had to bow out. Karla Stulky enjoyed the 5K course longer than anyone as did Eileen McCullough and David Gollob in the 20K. We love to see these spirited and gritty participants in our GMNC races doing what they can and having a fun time!
We'll miss not having an opportunity to race again on our fabulous trails until next December but we'll have great memories of a great season and tons of snow! Empowered Energy Systems is our prime resource for making this Series a success as is an amazing cadre of dedicated volunteers who we hope have all thawed out by now. Loki Outerwear provided their wonderful jackets for our Series winners (see separate Series results) and were accompanied by many other generous sponsors that kicked in valuable door prizes: Peach Street Distillers, Peachfork Winery, Summit Canyon Mountaineering, Bestslope Coffee, Ela Family Farms organic fruit, Base Camp Brewing, artists Caryl Brown and Lori Anderson, Enstrom's Toffee and, of course, Mom Tille with her hand-knitted GMNC hats.
Rest up and see you next season!