Grand Mesa Nordic Festival and Masters Ski Weekend
Join us for early season coaching and high altitude skiing. This is an early season masters performance and training clinic for skiers who want to hone their technique and improve their fitness. This is a great opportunity to get on snow early and get a jump on your training. The Grand Mesa usually gets some of the earliest snow in the West and the fun starts at 10,500′ elevation. If you haven't skied on the Mesa yet, you will be amazed at our beautiful spruce forests, rolling terrain and wide snowcat groomed trails. 
We will have several ski companies offering free demos of skis, boots and poles for classic and skate for all skiers during the Festival. 
The Festival takes place at Skyway Trailhead. 
Schedule:
Friday, Dec. 8
1pm to 3pm Masters clinic: meet coaches, ski with other participants.
3:30pm Rode wax clinic at Skyway.
Saturday, Dec 9
10am-2pm Free ski demos.
10am to 12pm classic clinic.
1:30pm to 3:30pm skate clinic.
Sunday, Dec 10
10am-2pm Free ski demos
10am to 12pm classic clinic
1pm to 3pm skate clinic
Cost:
$150 for Saturday/Sunday only
$185 for full 3 days — Friday/Saturday/Sunday
Registration link at the bottom of this page. Questions? Email info@gmnc.org
Thank you to The Cedaredge Lodge for sponsoring this event. This rustic lodge is at the base of Grand Mesa near the historic town of Cedaredge. Guests have access to a shared hot tub, multiple fire pits, and community kitchen with wood stove as well as other amenities.
All rooms at the lodge are 20% off their regular rates for the ENTIRE WINTER SEASON!  For select rooms (9, 10, and 11), you may choose instead to stay two nights at the regular rate and get a third night FREE. The discounted rates will be charged automatically at check out.  To make reservations go to their website or email: thecedaredgelodge@gmail.com 
MEET THE COACHES
Laurie Humbert grew up in Rochester and Lake Placid, New York. She began skiing in high school, and skied for St. Lawrence University. She was a member of the U.S. National Biathlon Team from 1993-1994 and competed in the 1994 Olympics in Lillehammer. She raced with the Rossignol Ski team in the late 1990s and early 2000s and also competed in bike racing. She has coached masters cross-country skiers for The Utah Nordic Alliance in Salt Lake City for the last two decades. She has two grown daughters and coaches cross-country running at the high school where she works in Salt Lake. She's a long-time Buffalo Bills fan.
Judi Hulme grew up skiing in Lander and now lives in Laramie, Wyoming. She's been teaching cross-country skiing for more than 20 years for the Medicine Bow Nordic Association at the Happy Jack trails near Laramie. She's also been a regular instructor for The Nordic Link's Steamboat Ski Clinic, the West Yellowstone Thanksgiving Ski Festival, and the Methow Valley Nordic Ski Camp at Sun Mountain Lodge in Washington. Judi is Level III certified from the Professional Ski Instructors of America (PSIA).  Along with participating in many local races in Wyoming and Colorado, she has finished the American Birkebeiner five times, starting out of the elite wave and achieving age group placement in both skate and classic disciplines. She has competed in Master's World Cup Cross Country Skiing Championships four times. Judi retired in 2022 from a long career at the University of Wyoming and along with skiing she enjoys biking, hiking, teaching group strength and fitness classes, and playing tennis.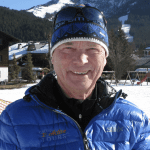 Tim Carter has been teaching and coaching for the last 40 years, it's his passion. His experience racing here and Europe has led him to really enjoy working with skiers to take them to a new level. His racing experience includes participating in 6 World Masters Championships and placing with 5 gold and one silver. He was the leader in his class nationally for 5 years, winning both in classic and skating. His racing background has helped him explain and demonstrate basic movements that really help advance the student. Most importantly, he says making sure students have a good time is paramount.    
Odd Bervensenden was born in northern Norway in 1958 and started skiing at age 2. He started ski-racing at the age of 6 and has never stopped. He's passionate about cross-country skiing, mountain biking, backcountry ski adventures and orienteering. He is a mechanical engineer and has worked in the defense, automotive and medical industries. He loves to travel and explore beautiful and dramatic places. Odd lives in Fraser Colorado with Sally, who also is his travel mate and love.
Sally Brassill grew up in northern New Hampshire ski country, and did her first cross-country ski race at 7 years old. Her parents owned an XC ski "lodge" and she could be found skiing with her siblings. As an adult, Sally worked her way up to PSIA L3 and trained with Olympians Patrick Weaver, Sue Long and others. Having worked at New England ski centers Great Glen Trails, and Jackson Ski Touring for over ten years, she headed to Colorado with her husband Odd Bersvendsen in 2016. Having the opportunity to co-start the Colorado Nordic Masters program at Snow Mt Ranch and Devil's Thumb Ranch has been a great opportunity to offer coaching as well as start the "Skinny Ski Sisters" on Saturdays at Snow Mountain Ranch in Granby. Sally has competed in many Colorado races and 11 World Loppets.