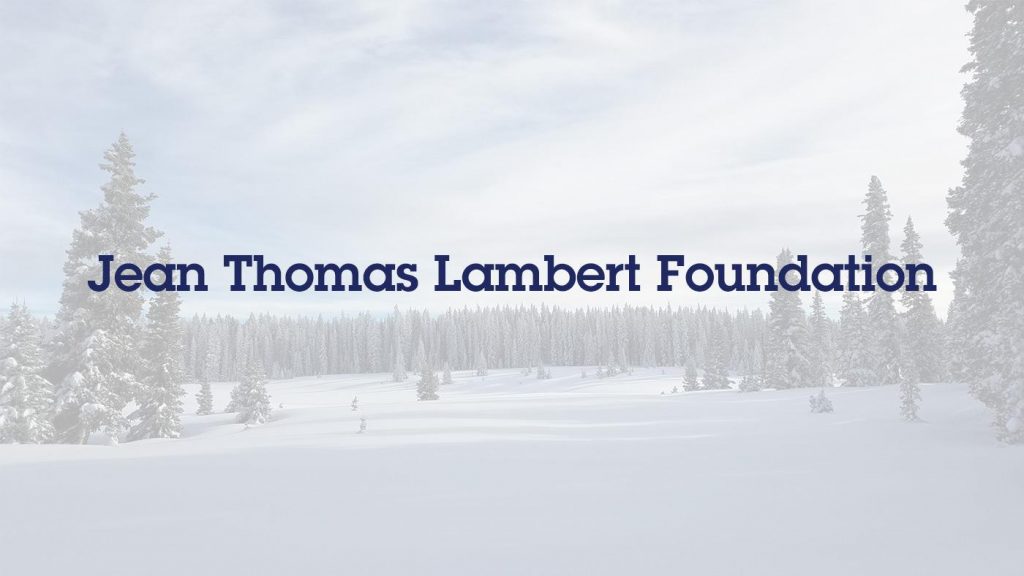 The Grand Mesa Nordic Council has been the fortunate recipient of several generous monetary gifts from the Jean Thomas Lambert Foundation over the last 10 years. These gifts allowed us to purchase our original PistenBully snow groomer in 2007. Gifts from the Foundation also provided money for improving ski trails by removing rocks, trees, and other trail obstructions. Supplemental winter grooming was also made possible because of the Foundation. Last but not least, the Foundation provided $190,000 in December, 2016, so that we could purchase our current PistenBully 400 groomer. Our ski trails are now some of the finest in Colorado and the US.
GMNC graciously thanks the Jean Thomas Lambert Foundation for being a sustaining benefactor of the GMNC Nordic programs. As a result, we have created and continue to provide an exceptional Nordic ski facility on Grand Mesa – yet have we ever asked ourselves, "Who was Jean Thomas Lambert"?
Jean Thomas Lambert was a remarkable woman who was born in 1924, and passed away in Akron, Ohio in 2005. Jean was a conservationist and gardener, a world traveler, a sportswoman, and a friend to people from all walks of life. Her father, a chemist at Firestone Tire and Rubber, was hand-picked by Mr. Firestone to be his successor as company President and CEO. Jean started a foundation which supported a variety of organizations, conservation projects in her community, and which eventually helped GMNC.
Jean Thomas Lambert was the mother of our long time GMNC member Tom Lambert. Tom has been instrumental in helping GMNC receive the generous support of the Foundation. It is one thing to understand that the Jean Thomas Lambert Foundation has helped support us for years; equally important is to remember the woman herself who had the vision and generosity to create the Foundation in the first place. She planted the seeds that would eventually produce the fruits we all enjoy today. GMNC recognizes the entire Lambert family, most of whom we have never met but all of whom are acknowledged and remembered for their generosity and support.