Supporting Cross Country Skiers Since 1990
Grand Mesa Nordic Council (GMNC) is a community-supported, nonprofit organization dedicated to promoting fun and safe cross country skiing experiences on Grand Mesa for skiers of all ages and abilities. GMNC relies entirely on voluntary contributions and grants to fund trail grooming and maintenance operations.
GMNC is governed by a volunteer Board of Directors from our local communities. Numerous additional volunteers are instrumental in creating our vibrant Nordic ski community.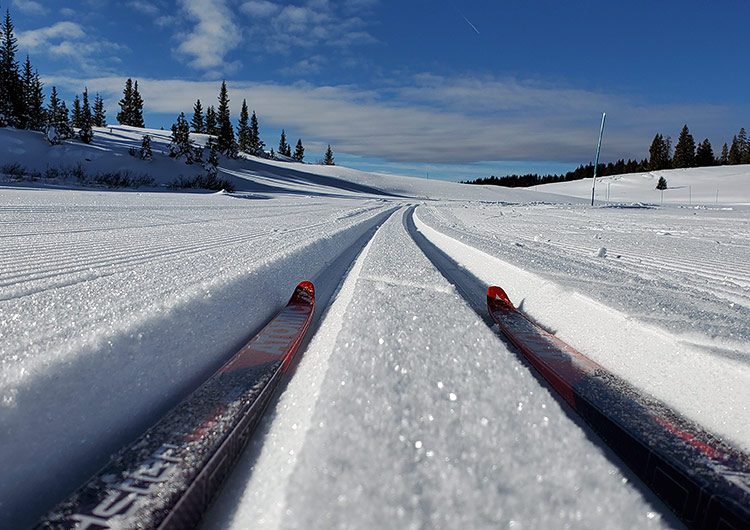 Grooming Ski Trails at 10,000 Feet
GMNC grooms and maintains 50 km (31 miles) of Nordic ski trails on the Skyway, County Line, and Ward trail systems on Grand Mesa near Grand Junction in western Colorado. Grand Mesa is known for its long season and heavy snowfalls, often more than 300 inches per year. GMNC's trail systems include high quality classic and skate ski trails as well as marked trails for ski touring.
CARING FOR THE LAND AND SERVING PEOPLE
Grand Mesa Nordic Council operates under a special use permit with the U.S. Forest Service, part of the Department of Agriculture.
SKIING IN TRUE WILDERNESS
Grand Mesa National Forest is a U.S. National Forest in Western Colorado. The forest covers most of Grand Mesa and the south part of Battlement Mesa. It has more than 300 lakes and covers the area of 346,555 acres (541 sq mi, or 1,400 km²).
We Depend on Your Support
Grand Mesa Nordic Council relies entirely on voluntary contributions and grants to fund trail grooming, maintenance operations, the warming hut, ski clinics and events.
Our suggested contribution of $75 per year ensures that we can continue to provide you with world-class skiing and grooming in one of the most spectacular of Nordic areas, in the wilderness of Grand Mesa National Forest atop Grand Mesa in western Colorado.
Grooming of 30 km (19 mi) of ski trails for skate and classic styles at Skyway and County Line trail systems
Grooming of 7 km (4.5 mi) of ski trails for classic style at Ward Nordic area
Maintenance of 18 km of ski touring area with marked and signed trails at Ward Nordic area
Warming hut at Skyway trailhead
Ski clinics, ski lessons and ski races
Newsletters, grooming reports and race results
Non-Discrimination Policy
Grand Mesa Nordic Council does not discriminate on the basis of race, color, religion (creed), gender, gender expression, age, national origin (ancestry), disability, marital status, sexual orientation, or military status, in any of its activities or operations. These activities include, but are not limited to, hiring and firing of staff, selection of volunteers and vendors, and provision of services. We are committed to providing an inclusive and welcoming environment for our staff, members/clients, volunteers, subcontractors, and vendors. Minors may be excluded from membership or participation at the discretion of Grand Mesa Nordic Council leadership.